Those who have attended workshops with Kathy Page over the years might like to know that she has a new book of short stories out, Paradise & Elsewhere, described by her publisher as 'a collection of dark fables at once familiar and entirely strange'. The book – as a physical object – looks and feels beautiful and the writing is as sharp as a knife.
The book has already attracted warm praise from established names like Amy Bloom and Barbara Gowdy. 'The unforgettable prose is moody, shape-shifting, provocative and always as compelling as a strong light at the end of a road you hesitate to walk down…but will' (Amy Bloom) and 'Kathy Page is a massive talent: wise, smart, very funny and very humane' (Barbara Gowdy). And a fantastic review of the book has just appeared in the Winnipeg Review: 'the stories in this collection are realistic, feminist, apocalyptic, fairytale, cautionary tale, origin story, mystery. She's got it all, and she is unapologetic about delivering the goods.'
It's all true! More information on her Canadian publisher's website, here Biblioasis
The Wasafiri New Writing Prize 2014 is open for entries. They say: 'We are looking for creative submissions in one of three categories: poetry, fiction and life writing. The competition is open to anyone worldwide who has not published a complete book in their chosen category. To enter, simply complete an entry form and send it along with your work and entry fee to Wasafiri by 5pm GMT on Friday 25 July 2014. The word limit is 3000 for fiction and life writing entries and a maximum of 5 poems (other terms and conditions apply).'
The prize is £300 and publication in the magazine. This year's judges are Susheila Nasta, Editor of Wasafiri, Bidisha, Inua Ellams and Monique Roffey. For further details go to http://www.wasafiri.org/wasafiri-new-writing-prize.asp
My short story 'Mistaken' has just been published in volume 2, issue 1 of Meniscus, a new online journal published by the Australasian Association of Writing Programs. Meniscus aims to provide a showcase for the best in contemporary international writing. Issue 1 includes writing from authors in the UK, the USA, New Zealand and Australia. Submissions are now being solicited for for Volume 2, Issue 2 until April 30th. Please send work as Word attachments to submissions@aawp.org.au.
To read the current issue – which includes my short story 'Mistaken' – visit this link.
.
Tweet
London Metropolitan Archives house an extraordinary range of documents, images, maps, films and books about London and it's free to use – worth a visit.
The Archives are  hosting a weekend of creative writing workshops, talks and readings  on Friday 11 & Saturday 12 April 2014. Events include 'Getting noticed in the children's book world', a talk by Nicky Potter, Publicist for Frances Lincoln Children's Books; 'Archiving  publishing collections' with Eric Huntley, Bogle- L'Ouverture Publications, Margaret Busby of  Allison & Busby, Verna Wilkins and Richard Wiltshire, LMA Archivist, and author readings by Meltem Arikan, Catherine Webb, Chris Fowler, Mike Carey
1 Day Ticket £15; 2 Day Ticket £25 (Attend all events except 'Special'); Family Day Ticket (parents accompanying children pay £5, children under 16 FREE!) To book a ticket on EventBrite click here
Macmillan Children's Books has announced that they are extending their crowd- sourced romance imprint Swoon Reads to the UK. Launched in the US in September 2013, Swoon Reads is an imprint 'dedicated to publishing books that capture the intensity and excitement of teen love'.
Manuscripts that achieve the highest ratings from the community of readers and the Swoon Reads editorial team will be selected for publication.  Senior Commissioning Editor, Rachel Petty, represents the UK on the Swoon Reads board. Authors are invited to submit their manuscripts before 30th April 2014 for the next round in the selection process.  If a manuscript is chosen for publication, the author will receive a $15,000 advance against royalties in a standard Macmillan publishing contract for all rights in all languages, including an option on their next book.
For more information visit the website at www.swoonreads.com


The 2013-14 International Playwriting Competition is open to original one-act play for young performers or teenage audiences. The competition, now in its fourth year, is open to writers of any age, any level of experience and from any country. It aims to encourage new writing for young performers and audiences around the world.
The winning playwrights in each category will be awarded a cash prize of £1,000, and will travel to London to see their play headline the International Festival of Playwriting and Performance, which will take place in May 2014. The best plays entered into the competition will be published in a collection with international distribution. For more information and details of how to apply click here.
Closing date: 13 December 2013
Tweet
The competition is open to unpublished women novelists writing in any genre for adults, including literary fiction, women's fiction, young adult fiction, science fiction, fantasy, chick-lit, crime fiction, thriller, historical fiction. To constitute a novel, books must total at least 50,000 words. This is a bi-annual competition. The next one will be in 2015.
1ST PRIZE: £5,000. Judging Panel: Kirsty Lang, arts journalist and presenter of BBC Radio 4's Front Row, Val McDermid, award-winning novelist, journalist and short story writer, and Charlotte Robertson, literary agent at Aitken Alexander Associates.
Closing date: 23 September 2013. More details of how to enter on the Mslexia site.
The ESRC Centre on Migration, Policy and Society & Keble College, Oxford, have launched a new poetry competition on the topic of people on the move – over the past decade, in the present and into the future.
Poet and writer Ruth Padel – author of The Mara Crossing – will select the winning entries. The prize-winning poems will be presented at a public reading in Oxford in February 2014 and will be included in a COMPAS anthology on migration. Previously published poems are eligible as long as the author still retains copyright.
Prizes: First prize £700, second prize £200 and third prize £100. Enter by Friday 11 October 2013. For the rules and details of how to submit, visit the COMPAS website.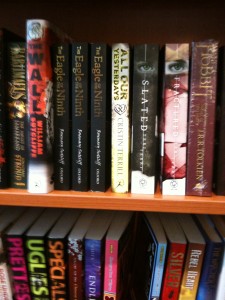 I was so pleased when I spotted Cristin Terrill's debut novel All Our Yesterdays  (Bloomsbury, 2013) on the shelves in Waterstones' YA section, in Greenwich the other day. Here's a pic I took on my phone. Cristin took part in the first Novelists' Club six-month course back in 2009. I remember her incredible dedication to writing 750 words a day, EVERY day. It's clearly paid off. Congratulations, Cristin!
To read reviews of the book on Goodreads click here. Her Amazon page is here.
.
Tweet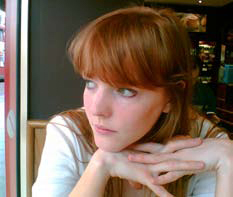 Congratulations to 28-year-old Emma Healey who attended a couple of LWW workshops way back in 2008 and 2009.  Her debut novel was the object of intense interest at the London Bookfair this year, with publishers from all over the world bidding for rights.
Strange Companions is the story of Maud, an elderly woman slipping into dementia while also struggling to find her best friend Elizabeth. As her mind drifts back to the 1940s, Maud leaves notes around the flat to remind her of her quest but struggles to remember what she had for lunch or whether her daughter has been to visit yet. It's described on the Curtis Brown site as 'a fast-paced mystery and a moving meditation on memory and identity, told through Maud's unforgettable voice.'
Until recently, Emma was employed as a web content administrator at UEA, which is where she met her agent Karolina Sutton of Curtis Brown. She's now given up her job to focus on her writing full-time. Strange Companions is due to be published in the UK in 2014 by Penguin, in the US by HarperCollins and in Canada by Knopf. Translation rights have been sold in five languages … and the bidding continues!
.
.
Tweet